Diamond Wire Saw Machine For Squaring Blocks
Product Description
Diamond Wire Saw Machine For Squaring Blocks cutting in quarry and trimming in workshop,Equip four meter-long fixed track with the main machine,which is convenient to hoist at quarry, also equip go up and down stands at two sides to ajust the machine's height and angel. use one big inverter to control the rotation speed of the flywheel(the main motor), one small inverter to control the traverse speed of the machine; controlled by PLC.
Automatically control the constant tension of diamond wire rope and the speed of moving truck; have the automatic switching function between manual and automatic control,that is when stop manually operating,it will automatically turn to the state of self-driven; can change the moving speed of machine by tracing the real-time load changes which can ensure the good working condition of the diamond wire rope.
Have protection system to protect workers and machine from injury when wire rope breaks off suddenly the operation part is behind theshield, make sure the working safety.
Diamond Wire Saw Machine For Squaring Blocks

Model
DWSG-11A-6P
DWSG-15A-6P
DWSG-18A-6P
Diam. of driving wheel
Φ550
Φ550
Φ550
Length of wire(m)
10-20m
10-25m
10-30m
Wire speed
0-40m/s
0-40m/s
0-40m/s
Cutting speed
1-8m2/h
1-8m2/h
1-8m2/h
Gross weight
500kg
700kg
750kg
Cutting target
Marble/granite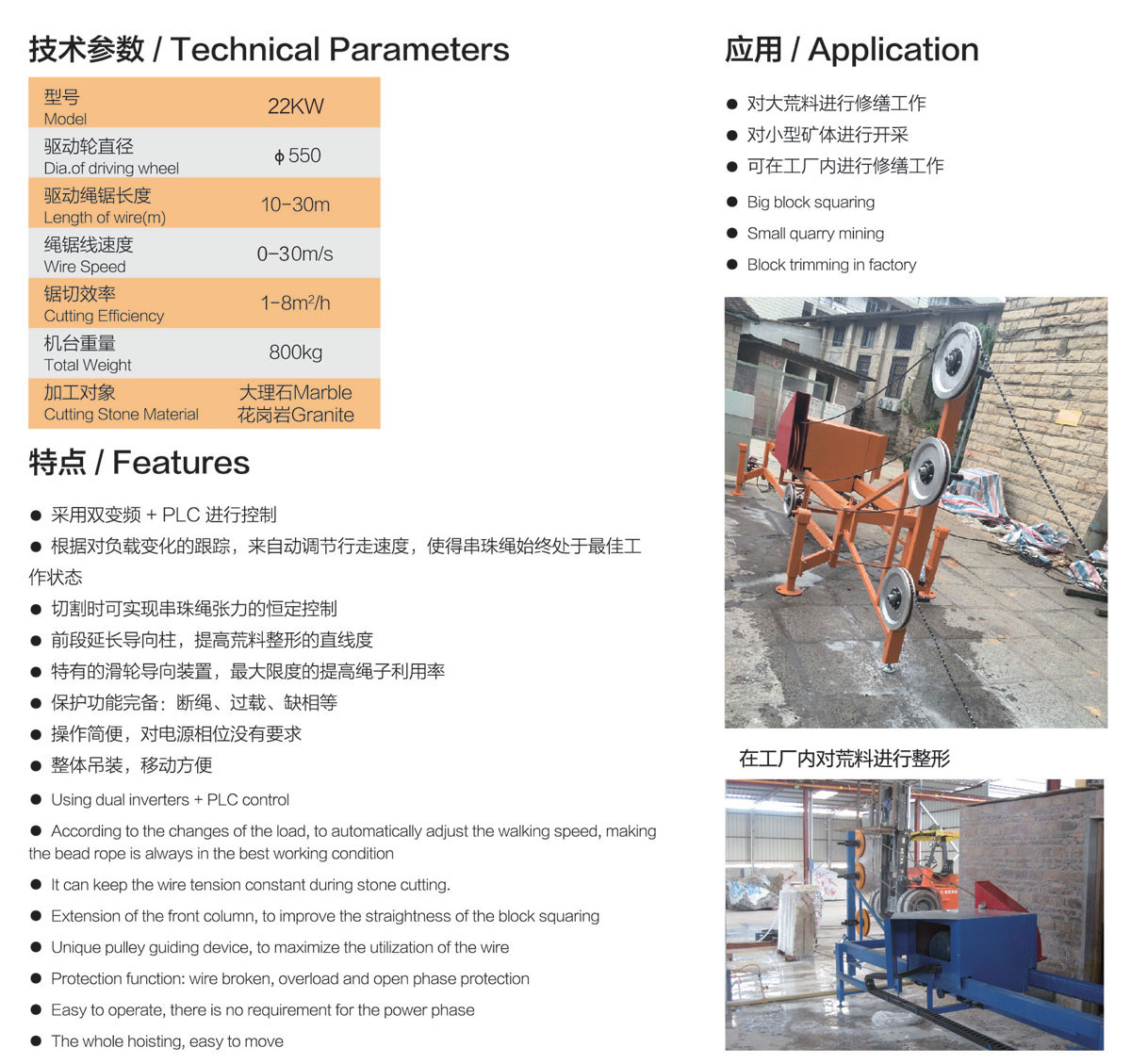 Please feel free to give your inquiry in the form below. We will reply you in 24 hours.